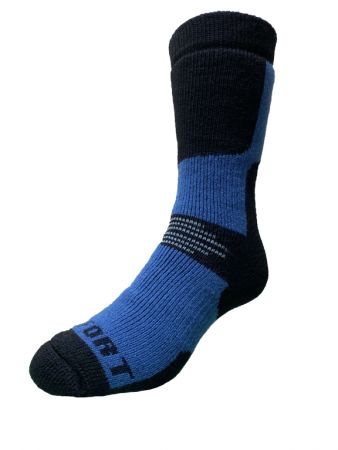 80% Merino Wool
15% Nylon/Lycra
5% Isolfil® (Polypropylene

Designed with boots in mind for trekking, hunting, farming and all outdoor pursuits.Extra leg length, the calf coverer.

Merino wool/nylon blend with the benefit of being reinforced with Isolfil® throughout the shin, heel, sole and toe portions of the sock.

The sock has a terry loop pile leg and foot. This terry loop air cavity captures the body heat released from the body and stores it for warmth and comfort.

Ankle and arch support to hold the sock in place, whilst supporting both your ankle and the arch of your foot.
Specially designed "Y" heel and toe, eliminating any bulky fabric around the toe and heel areas. The outcome is a snug fitting heel and toe area.

Flat concealed toe seam.

Our single welt top expands to offer the wearer a non restrictive, soft top sock.

The extra benefit of the Isolfil® is that it absorbs the moisture away from your body to the exterior of the sock so that your feet stay dry.